Sony Unveils 24mm f/2.8 G, 40mm f/2.5 G, and 50mm f/2.5 G Lenses
Sony has announced three compact and fast prime lenses designed to balance high-quality with small size. These lenses look to be clearly designed in response to Sigma's recent push in this direction with its I-Series lenses. The three lenses are part of Sony's G lens line, not the higher-end G-Master line. All will reportedly perform […]
Sony has announced three compact and fast prime lenses designed to balance high-quality with small size. These lenses look to be clearly designed in response to Sigma's recent push in this direction with its I-Series lenses.
The three lenses are part of Sony's G lens line, not the higher-end G-Master line. All will reportedly perform similarly but fill different use cases based on their focal lengths.
Sony also clarifies that these lenses do not replace any others in its lens lineup, and all other compact primes are continuing on as before. That means that with the 24mm f/2.8 G, 40mm f/2.5 G, and 50mm f/2.5 G lenses, Sony's full E-mount lens lineup has expanded to 63 total optics.
All three lenses have very similar construction. All three feature an aspherical lens (to suppress aberrations and deliver high resolution) and an extra-low dispersion optic (to suppress chromatic aberration) as well as a seven-bladed circular aperture. Sony also says that, externally, all three lenses are identical in size. They are different in weight, however: the 24mm weighs 162 grams, the 40mm weighs 173 grams, and the 50mm weighs 174 grams.
The 50mm f/2.5 G has a minimum focus distance of 0.35m (AF) / 0.31m (MF) and a maximum magnification of up to 0.18x (AF) / 0.21x (MF). The 40mm f/2.5 G has a minimum focus distance of 0.28m (AF) / 0.25m (MF) and maximum magnification of up to 0.20x (AF) / 0.23x (MF). The FE 24mm f/2.8 G has a minimum focus distance of 0.24m (AF) / 0.18m (MF) and maximum magnification of up to 0.13x (AF) / 0.19x (MF).
Sony says that all three lenses boast fast, precise, and quiet autofocus that is ideal for both photo and video — pretty much par for the course from Sony at this point. The set of lenses uses double linear motors that focus internally with little to no vibration.
The lenses feature a focus ring with linear response manual focus, a focus hold button, an AF/MF switch, and a de-clickable aperture switch — again, pretty standard from Sony. The three lenses are also dust and moisture resistant, and all three feature an aluminum barrel and overall build quality that Sony touts as "superb."
Speaking of the aluminum barrel, Sony says that metal is used for the exterior finish and the lens hood, which together contribute to overall durability. The iris ring indices, focal length markings, and Sony logo are all engraved into the metal.
As was promised with the 50mm f/1.2, Sony says that manufacturing to meet demand should not be a problem. The company went one step further and said that manufacturing is easier for lenses like these and therefore supply should be plentiful.
Below are a set of sample images from each lens:
24mm f/2.8 G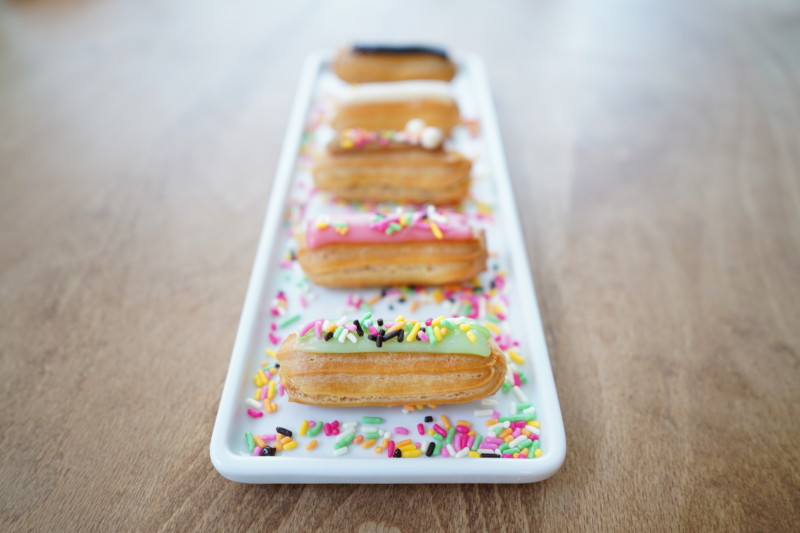 40mm f/2.5 G
50mm f/2.5 G
The 24mm f/2.8 G and 40mm f/2.5 G will be introduced on May 13, with the 50mm f/2.5 G coming slightly later on May 27. All three lenses will retail for $600.