Duo Captures the First 8K VR Drone Video Over Iceland's Volcano
The Perlan Museum — host of a state-of-the-art 8K planetarium and other exhibitions focused on Iceland — commissioned filmmaker Ragnar Th. Sigurðsson, founder of Arctic Images, and drone pilot Arnar Þór Þórsson to fly an 8K-capable 360 camera over the erupting volcano to capture an immersive virtual reality (VR) experience. On March 19th, 2021, the […]
The Perlan Museum — host of a state-of-the-art 8K planetarium and other exhibitions focused on Iceland — commissioned filmmaker Ragnar Th. Sigurðsson, founder of Arctic Images, and drone pilot Arnar Þór Þórsson to fly an 8K-capable 360 camera over the erupting volcano to capture an immersive virtual reality (VR) experience.
On March 19th, 2021, the Mt. Fagradalsfjall volcano in Geldingadalur, Iceland erupted for the first time in 800 years and has continued to spout new fissures over the course of the last month and a half. Multiple artists have captured different views and perspectives on the eruption. From a drone that nearly melted from coming too close to the mouth of the volcano, to another drone surviving a direct strike by a flying chunk of lava, the majesty of the eruption has been shot many times from the sky. However, the duo of Sigurðsson and Þór Þórsson are the first to shoot an impressive 360-degree 8K aerial video of the eruption that is designed to be viewed in VR.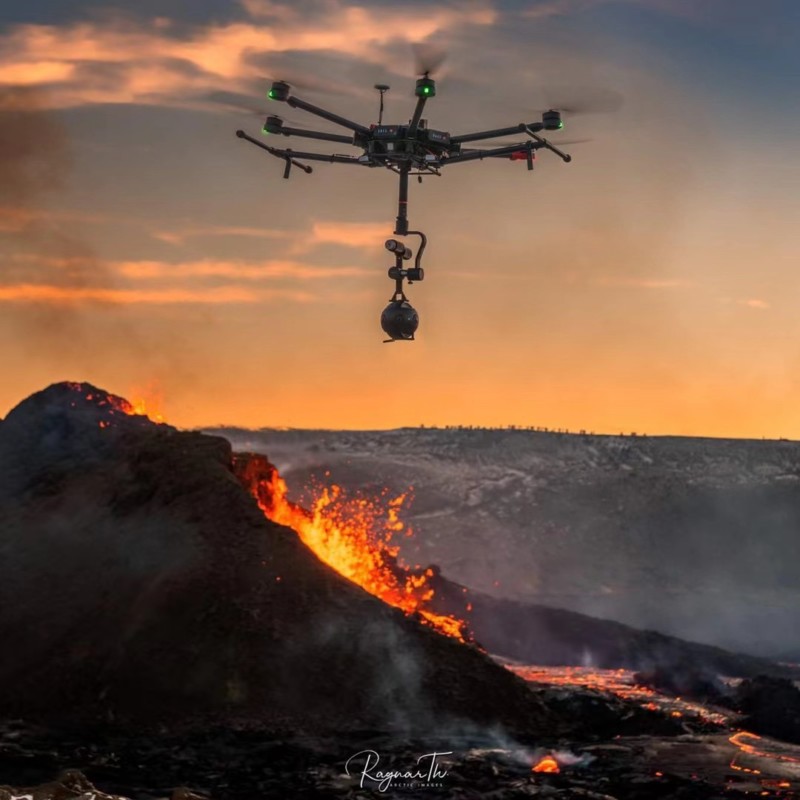 Shared by the Insta 360 team, as the footage was shot on an Insta360 Pro 2, the best experience is had with resolution up as high as your bandwidth can handle on both desktop or VR headset. However you choose to watch it, make sure not to forget to look around to see the full experience.
As explained on the Insta360 blog, the due mounted the Insta360 Pro 2 on a DJI Matrice 600 drone and flew it extremely close to the volcano.
"During the flight, the lava reached temperatures as high as 1240°C degrees (2264°F), but the camera sustained the journey, delivering these epic shots," the company notes on its blog. "Camera weight and image quality are two common limiting factors for shooting VR drone videos. Insta360 Pro 2's lightweight form factor, weighing just 1.5kg, enabled the drone pilot to fly smoothly without the drone being weighed down by the camera."
Insta360 also says the quality of the footage is as much thanks to its camera as it is to Sigurðsson's expertise with the camera.
"A native Icelander and professional photographer for over 30 years, Ragnar's images have been featured in publications such as the New York Times, National Geographic, Times, Nature, and Newsweek," Insta360 writes. "Now with VR technology, Ragnar and other photographers can deliver deeply immersive experiences of the Earth's wonders to audiences around the world."
---
Image credits: Photos provided courtesy of Insta360.